WHAT'S NEW IN 2.01
Lots of bug fixes and some new features!
Now automatically imports sketches from versions 1.1 and below.

New option to exit a new sketch without saving.

Added visual and audio feedback when using undo or redo causes the current tool to switch to or from an eraser.

Added audio feedback when switching to or from a layer that is using an eraser.

Adjusted the eraser to be much stronger on all layers. (Thank you to everyone who emailed support for the feedback!)

Adjusted both tone pencil tools to be slightly lighter for smoother shading in the tone layer.

Improved palm touch rejection.

Fixed a bug that caused the selected tool in the tool palette to be incorrect after using undo or redo.

Fixed a bug that could cause the app to crash if a two finger pinch gesture happened on the draw side at the start of a new sketch.

Fixed a memory leak that caused the app to eventually crash on the 3rd or 4th consecutive sketch.

Fixed a bug that prevented renamed files from instantly refreshing their titles while viewing them full screen in the portfolio.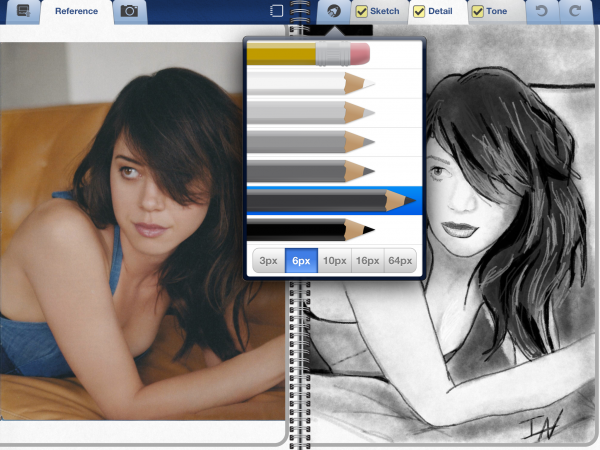 Available now in the App Store!