THE COUNTDOWN IS OVER!
Version 2.0 is finally live in the App Store.  This version is totally rewritten from the ground up to be more stable, have more features, and have more performance.  We've also engineered it to be easy to maintain and update far into the future.  More Updates & Features to come!!!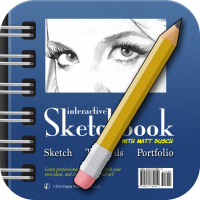 Click the icon above to see Interactive Sketchbook in the App Store!  Below is a peak at what the new version looks like when sketching from your photo reference.